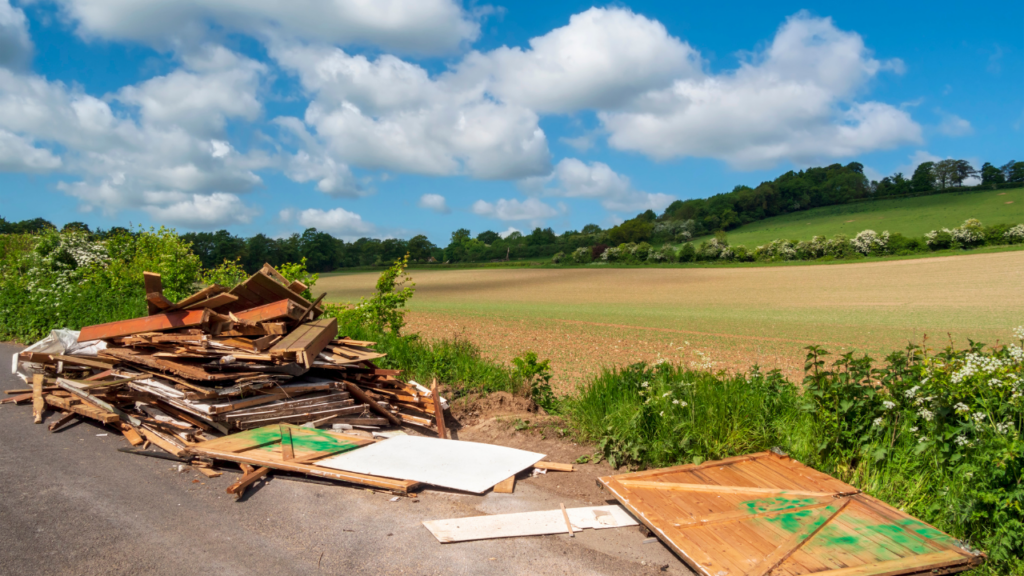 Every year fly-tipping costs the UK government up to £392 million¹. The criminal offence involves the dumping of commercial, industrial, and household waste, and poses a great risk to public health and the environment. But exactly how much have UK businesses paid out due to commercial fly-tipping in recent years?
Following a 300% increase in searches for the term 'how to report fly-tipping' in the past year², our team of sustainable waste management experts delve into the number of commercial fly-tipping fines handed out in the past three years and the cost to businesses.
The findings are based on insight obtained by us through Freedom of Information requests (FOIs) sent to 424 UK councils³, of which 117 councils responded. The top ten councils that paid out the most fines in the past three years include:
| | | |
| --- | --- | --- |
| UK councils | Total commercial fly-tipping fines between 2019-2022 | Total value of commercial fly-tipping fines paid out between 2019-2022 |
| City of Westminster | 2,466 | £986,400 |
| London Borough of Islington | 1,416 | £167,850 |
| Brighton and Hove | 1,211 | £404,900 |
| London Borough of Southwark | 926 | £157,430 |
| London Borough of Camden | 787 | £314,800 |
| London Borough of Newham | 776 | £237,200 |
| London Borough of Haringey | 673 | £268,700 |
| City of Edinburgh | 390 | £78,000 |
| New Forest District Council | 142 | £35,300 |
| Royal Borough of Kingston upon Thames | 103 | £41,200 |
Let's break this down:
Our new study reveals that businesses within these local authorities paid out a shocking total of just under £3 million⁴ between 2019 and 2022, and the City of Westminster takes the top spot for the racking up the biggest cost (£986,400) with a staggering 2,466 commercial fly-tipping fines being handed out to businesses within this period.
City of Westminster
From 2019 to 2022, the number of fines this Central London location received increased by 674% (from 153 to 1,183 fines). This stark increase of unauthorised waste disposal could be attributed to the increased cost of legally disposing of waste, reduced opening hours at municipal waste sites, and tighter restrictions on the types of materials that can be taken there.
It's disappointing to see any area in the UK gaining weighty fines due to businesses illegally dumping their waste, but even more so when it's a central location and public risk could be tenfold.
London Boroughs
The London Borough of Islington (1,416 fines) ranks second, with the boroughs of Southwark (926 fines), and Camden (787 fines) following closely behind, with these boroughs collectively paying out £640,080 to their local authorities. Comparing 2019 to 2022, Camden saw the biggest increase in fly-tipping offences out of these boroughs, with the total number of fines surging from 318 to 420 (32%).
Other London boroughs that have paid out hefty commercial fly-tipping fines include London Borough of Newham (776 fines), London Borough of Haringey (673 fines), and Royal Borough of Kingston upon Thames (103 fines).
Brighton and Hove
Brighton and Hove takes the third spot in our new study. Over the past three years, the East Sussex city has attained 1,211 commercial fly-tipping fines costing businesses in this area a whopping £404,900. Regardless of the city installing CCTV cameras to crack down on fly-tippers dumping building materials⁵, commercial fines increased from 285 to 416 (46%) between 2019 and 2022, which suggests that local authorities need to implement further measures to mitigate fly-tipping culprits.
City of Edinburgh
With many examples of fly-tipping in the City of Edinburgh, it's no surprise that the Scottish capital ranks eighth for a high number of trade fly-tipping fines, and has subsequently paid out a massive £78,000. The most fly-tipped streets in the capital include Springwell Place, Westfield, Wester Hailes Park, Stewart Terrace, and Gorgie Road⁶.
New Forest District Council
The New Forest is a local government district in Hampshire, and this year the council highlighted a large asbestos fly-tip in the area. The council ranks ninth in our study, with 142 commercial fly-tipping fines in 2022, costing companies in this area £35,000.
Another notable fly-tipping offence in this area occurred in May 2022, where a shocking 40 vans were stopped and a driver arrested as police in the New Forest carried out an anti-fly-tipping operation in Lyndhurst.
How businesses can safely and legally dispose of waste and mitigate risk
Business waste includes any waste that comes from construction, demolition, industry, or agriculture. We'd suggest if you work in trades where such waste is generated, make sure you're aware of your responsibilities when it comes to disposing of waste safely and legally. Not only could illegal dumping result in hefty fines, but the reputation damage this could cause to companies could be even more detrimental.
Responsibilities include doing everything you can to prevent, reuse, recycle, or recovering waste, completing a waste transfer note for each load of waste that leaves your trading premises, and ensuring that your chosen waste carrier is actually registered to dispose of waste.
If your business deals with hazardous waste, you will be met with an extra duty of care, such as classifying your waste, separating and storing waste safely, using authorised businesses to collect this type of waste, and filling out consignment notes alongside keeping records of all waste produced at the premises.
It's important to say, too, that the majority of the time, companies do not intend to be non-compliant and law-breaking. Sometimes things just slip through the net. It will often mean that the business has engaged with a supplier that cuts corners, and Envirovue has systems to stop this. Some examples we hear of companies getting caught out this way are branded PPE or personal information being found in the dumped waste.
We appreciate this can be a lot for business owners to keep on top of and that's why it's essential to partner with professional and regulated waste disposal companies who can guarantee the correct procedures will be followed.For more information on how we can help industries dispose of commercial waste safely and sustainably, please visit: https://envirovue.io/industries/
Sources
Search volume insight for the term 'how to report flytipping' correct as of August 2022

Data obtained by Envirovue from 117 UK councils by a Freedom of Information Request on the number of commercial fly-tipping offence fines and subsequent fines paid out by businesses within these local authorities. Data correct as of June 1st 2019 – June 1st 2022.

Actual total figure of fines paid out by businesses with the most fines from 2019-2022 calculates to approximately £2,691,780.