Sustainable Waste Management, Nationwide

Is your waste management costing your business and planet more than it needs to?
We have the knowedge and technology to help.
NATIONWIDE SERVICES
Envirovue provides you with a range of waste management services nationwide, eliminating the difficulty, risk and expense of managing multiple waste streams across a range of locations.

VIEW SERVICES
WE OFFSET YOUR CARBON
CO2 emissions are generated when transporting and recycling your waste. Using the data we collect, we calculate and offset those emissions, allowing you to live up to your environmental responsibility commitments.

MORE INFO
OUR VALUES
The environment, economics, and technology are the pillars on which our culture is built. Harnessing technology to provide you with the most sustainable, cost-effective waste management solutions.

FIND OUT MORE
"Envirovue go above and beyond to accommodate your needs and deliver skips as and when needed even out of hours. I have found Envirovue to be one of the best skip companies to use and find their customer service exceptional. They are always there to take your call and sort out any issues."
MANDY, BRUNTWOOD
"Envirovue have great customer service, they go above and beyond for us and nothing is ever too much trouble. They save time and money for various departments in our company including procurement, environmental & finance. Their online portal is quick and easy to use making immediately accessing our documents and data hassle free."
STUART, INPUT GROUP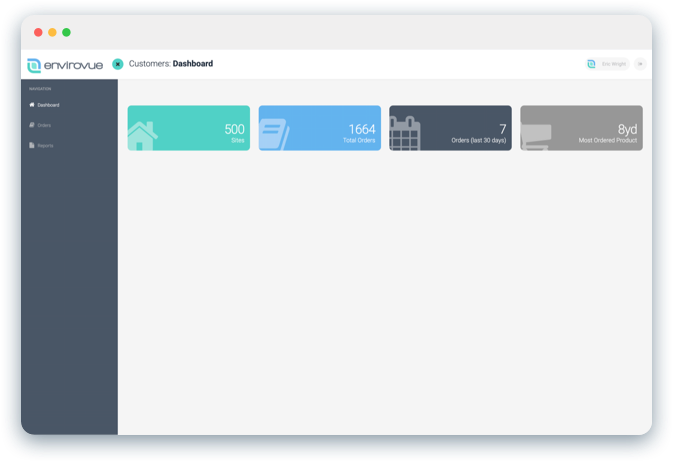 Online Customer Portal
ISO 14001 audit around the corner? No need to run around like a headless chicken collating the information, just log on to our portal. You can rest easy knowing you're compliant at every location.
Review all your waste movements across the UK

Access all your compliance documents and reports

Review and download invoices directly to your accounting system
SAWMILL COURT, ERIC WRIGHT
About Us
Vast experience in the sector has given us the edge when it comes to skills, knowledge and connections to get you the best waste management service at the best prices. With a focus on environmental sustainability, compliance and technological innovation, we're ready to respond to your waste management challenges now, and in the future.
Why Use Us?
We help reduce your administration costs relating to your procurement, finance and environmental department.

We help improve your sustainability metrics by increasing recycling rates as well as reducing and automatically offsetting emissions.

We help you manage and reduce your waste costs, regularly reviewing service levels and local prices.