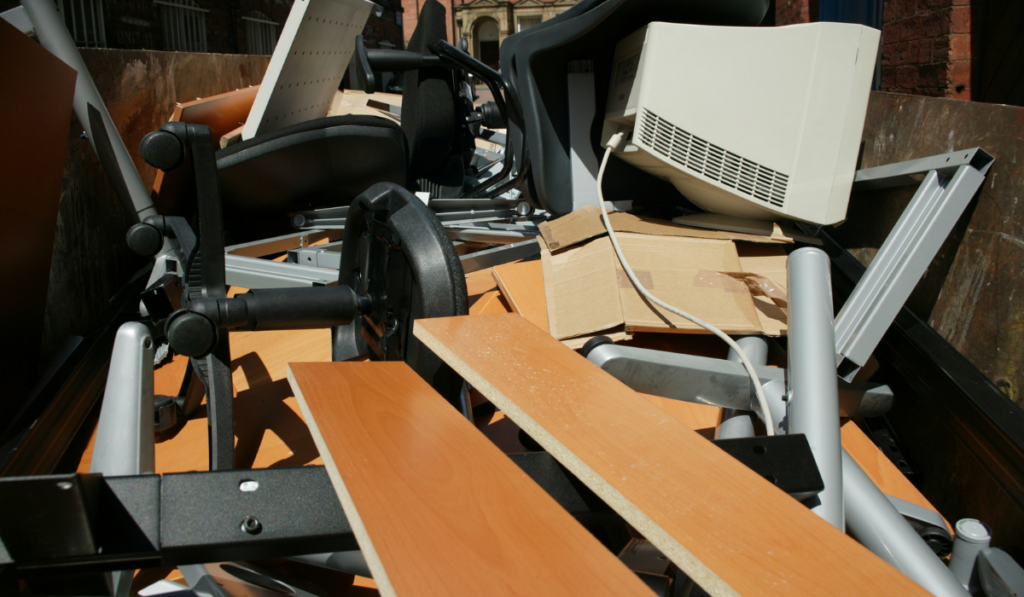 Although employers have a duty of care to ensure that the office is a safe environment for workers, this responsibility also extends to the removal of waste from your office or business premises. Disposing of hazardous, contaminated or electrical waste incorrectly may not just have an adverse effect on the environment – you could be breaking the law.
The Waste Duty of Care Code of Practice is issued under section 34 of the Environmental Protection Act 1990 and states that anyone dealing with waste must keep it safe, make sure it is dealt with responsibly and only give it to authorised businesses to take away. Failure to comply is a criminal offence with serious consequences – it can lead to prosecution, and there is no upper limit on what you can be fined.
Our team of sustainable waste management experts, delve into some of the most common business hazardous waste and share advice on how companies should be disposing of these items legally and safely, according to legislation and industry guidance.
Unused batteries
Batteries are made up of corrosive and poisonous chemicals, making it no surprise that when they are overheated or used excessively, it can lead to a build-up of gases, causing the battery to explode, leak or become damaged.
Dangers associated with damaged batteries include toxic acid exposure, flammable risks, electric shocks, and environmental hazards. Making it even more crucial that hazardous waste like this is disposed of by waste professionals, ensuring legal and sustainable guidance is followed.
In the United Kingdom, batteries and accumulators are regulated to help protect the environment through the Waste Batteries and Accumulators Regulations 2009, with the legislation covering everything from portable batteries to automotive and industrial battery packs. The legislation states that batteries must be properly disposed of at a hazardous waste collection site, recycling facility, or an electronics retailer that recycles batteries.
Clinical waste
Clinical waste is defined as waste that could cause infection or disease and is usually generated in healthcare, veterinary and research environments. This type of hazard consists of organic matter, including human, animal or contaminated equipment.
To responsibly identify and dispose of clinical waste, companies are advised to work alongside professional and registered waste experts to ensure safety regulations are matched. With more sectors increasingly adopting personal protective equipment (PPE) due to Covid-19 practices, businesses of all types should consider implementing a safe and sustainable process of clinical waste management.
Depending on the material of waste, disposal methods such as high-temperature incineration and steam sterilisation can be used. We highly recommend that if you're opting for these measures, you should only work with registered and reputable companies to ensure the items are disposed of correctly.
WEEE waste
WEEE waste includes IT equipment such as computer screens, phone lines and routers, as well as small household appliances such as toasters, clocks and microwaves. Electrical waste can be a widespread environmental hazard, which releases harmful toxins into the environment and contributes to a large proportion of unnecessary landfill.
If your business uses electrical or electronic equipment (EEE), there are two key requirements under the WEEE Regulations. The business must firstly store, collect, treat, recycle and dispose of WEEE separately from other waste, as well as obtain proof that WEEE was given to an authorised waste management company.
Fly-tipping of electrical goods, in particular, has become an increasingly common offence over recent years, with more and more people receiving sizeable fines as a result. Ensuring responsible disposal of WEEE products is not only a legal obligation but also a sustainable choice for environmentally conscious businesses.
Hazardous waste
Hazardous waste has certain properties that are harmful to humans or the environment and is usually toxic, flammable, corrosive or carcinogenic. As well as obviously dangerous items, it includes many items of everyday business and construction waste that you might not expect, which means most businesses will produce some hazardous waste.
Common forms of hazardous waste include asbestos, non-edible oils, fridges, LCD screens and fluorescent tubes. If you produce any hazardous waste, you have a legal Duty of Care to store, transport and dispose of it in line with the Hazardous Waste Regulations.
Before you send your waste for recycling or disposal, you must identify and classify it using the correct EWC (European Waste Code) to determine if it is hazardous and ensure it is managed correctly.
Disposing of office hazards correctly
When it comes to disposing of waste correctly, many people won't think about the dangers many office hazards pose. If not disposed of correctly and safely, hazardous waste could negatively impact human health and result in severe injury. Whether it's unused batteries, office printing equipment or PEE waste, making sure these are all disposed of safely and sustainably is vital, not only to protect people but also the environment.
We're really passionate about businesses operating in a sustainable manner, and for organisations who think they have office hazards like those we've highlighted laying around, don't just throw them out or, even worse, contribute to flytipping. Instead, make sure hazardous waste is removed by trained professionals, ensuring it's disposed of safely and in line with legal and environmental standards.

For more information on how we can support your business with sustainable waste disposal get in touch with our team.
Sources:
Search volume data for the search term 'Office risk assessment' correct as of July 2022

Search volume data for the search term 'Health and safety offices' correct as of July 2022

Search volume data for the search term 'Office hazards' correct as of July 2022